Vietnam M&A Forum award winners for 2019-2020
25/11/2020
The 12th Vietnam M&A Forum today announced the masterminds behind the best deals and the best advisory firms in 2019-2020.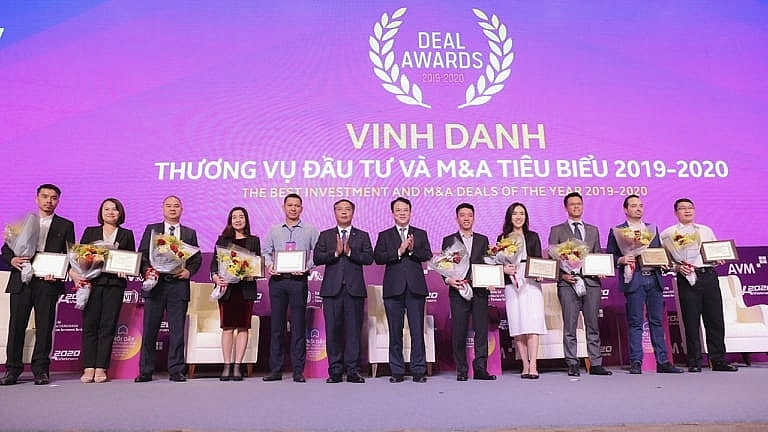 The Vietnam M&A Forum 2020 takes place in the new normal while Vietnam, as part of the global economy, is trying to shake off the blow from the coronavirus pandemic and make the most of the new investment trends of the region and the world at large. Nevertheless, unlike most other economies, the outlook for the Vietnamese economy remains quite positive thanks to the country's efforts to take drastic measures to reform the domestic investment and business climate, effectively curb the pandemic, and potentially benefit from a noticeable shift in foreign investment flows.
Le Trong Minh, editor-in-chief of Vietnam Investment Review and head of the Organising Board, said they have high hopes for an upsurge in the scale and value of M&A deals in the Vietnamese market in the coming time, to be triggered once all necessary and favourable conditions come together. This expectation seems to be very much in line with the forecasts of many domestic and foreign organisations as Vietnam is one of the rare bright spots on the radars of international investors.
"The Organising Board hopes that the awards will encourage companies to overcome difficulties and make use of their advantages in M&A transactions to consolidate and develop their entities into powerful economic corporations," he added.
Below is the list of the best deals and advisory firms awarded at the Vietnam M&A Forum 2020 for their outstanding execution and deal value.
The Best Investment and M&A Deals of the Year 2019-2020
| | |
| --- | --- |
| Companies | Deals |
| Masan Group | Masan and member companies struck deals with VinCommerce, Starck, NET, and 3F |
| BIDV | BIDV sells shares to KEB Hana Bank |
| Vinhomes | KKR & Temasek acquired a stake in Vinhomes |
| Stark Corporation | Stark Corporation purchased 100 per cent equity of Thipha Cable and Dovina |
| Sumitomo Life and Bao Viet Holdings | Sumitomo purchased shares of Bao Viet |
| Danh Khoi Holdings | Danh Khoi Holdings acquired the Sun Frontier project |
| Aozora Bank-OCB | Aozora Bank acquired a stake in OCB |
| FWD Group | FWD Group acquired Vietcombank-Cardif Life Insurance (VCLI) |
| Pharmacity | Pharmacity successfully completed the sale of bonds to investors |
| Vinamilk | Vinamilk & GTNFoods acquired Moc Chau Milk |
The Best M&A Advisory Firms in 2019-2020:
1. BDA Partners
2. KPMG Vietnam
3. Bae, Kim & Lee Vietnam
4. Baker McKenzie
5. VILAF
6. Viet Capital Securities
Outstanding M&A Advisory firms in 2019-2020
1. YKVN
2. LNT Partners
3. RSM Vietnam
4. GCA Partners
5. Indochina Capital
6. LM Capital
7. Bao Viet Securities
8. Saigon Securities Inc. (SSI)
9. VPBank Securities (VPS)
10. Rong Viet Securities